| | |
| --- | --- |
| | Product Links |
| | |
| --- | --- |
| | Inside SRI |
SRI-Newsletter
| | |
| --- | --- |
| | Subscribe to our newsletter to receive monthly specials, manufacturer's feature, and electronics news via email. |

---
See Our latest release of SRI-Newsletter here


---
View Our List of Archived Newsletter Articles


| | |
| --- | --- |
| | SRI Links |
Visit our Sister Site,

Distributor of
Industrial Products
Web Search ..
Powered by;






Intervox Speakers & Buzzers

The Intervox line of audible signal devices was created in recognition of the diversity of applications and special characteristics designers encounter in today's complex world, since no one device has the capability of filling every requirement. The fact is, in virtually every case there is a need to consider output frequency, sound output (SPL), voltage range, power consumption, tone type, housing, mounting, termination, pricing and availability. What's more, the environment in which your product will be used can also affect the choice.
Ideal for applications such as Alarms, Medical Instruments, PC computers, Toys, Machinery, Equipment Alerts, Auto Back-up Systems, Earphones, Telephone Handsets, and Televisions



---

Flexible Neon Wire, Electroluminescent (EL) Wire


Flexible Neon Wire, also called Electroluminescent (EL) Wire, is the new generation product in the global lighting and display industry. Unlike flexible LED strips, EL wire is not a series of points, but rather a 360 degree line of unbroken light. Wrapped by a colorful plastic tube on its surface, it appears similar to common telephone wire, emitting light along its entire length but without any heat radiation. With a much lower power consumption, energy saving, and environmental protection, it opens a new era in the lighting and display field.

Features include:

Operates on AC voltages unlike LED Strips, which operate on DC voltages
Operating Voltage: 90 - 120VAC
Available in 2.3mm and 3.2mm Diameters
Standard 9.84 Ft. (3 Meter) Length with Pre-Wired Connector
Extremely Flexible, can be Bent, Knotted, Cut, Stretched, etc. without Compromising the Lighting Effect
Can Be Mounted to Almost Any Decoration Surface using Transparent Adhesive Tape, Glue, Clips, Thread Nail, etc.
Environmentally Friendly and Energy Saving, uses 50 - 70% less energy than LED lamps, 20 - 40% less than Rope Lighting, and 1 - 10% less than Neon Lighting

Click Here for NTE Flexible Neon Wire
Click Here for PDF Specs
Click Here for Other NTE LED Products


PG Long Life Series

Power-Sonic has added a line of VRLA type batteries to its line of sealed rechargeable lead-acid batteries: the POWER-GUARD Series. The new AGM type group of 6 & 12V batteries, designed for Cyclic, Standby and Solar Applications as well as the UPS / Telecom market, features a 10-year design life in standby service along with superb high-rate discharge characteristics and threaded copper insert terminals. Capacities, rated at the 10-hr. rate to 1.80V, range from 28 to 210AH.

All Power Sonic PG series batteries feature;

Absorbent Glass Mat (AGM) technology for superior performance.
Thick plate design and efficient gas recombination that yield a design life expectancy of 10 years in standby mode.
Superb high-rate discharge characteristics that ensure reliable performance in UPS and Telecom applications.
Proven VRLA technology that guarantees safe operation without maintenance and "non-restricted article" status for transportation.
Lead-calcium alloy grids and the use of high purity lead account for superior shelf-life characteristics, permitting storage for extended periods of time.
Cutting-edge manufacturing and process control combined with meticulous quality assurance procedures ensure consistent and dependable performance.
Rugged plastic case and cover, flame retardant to UL94 V-O.
Approved for transport by air. D.O.T., I.A.T.A. and F.A.A. certified.

Click Here for Powersonic PG Series
Click Here for Other Powersonic Products
.

| | |
| --- | --- |
| | Cooper Wring Devices have been added to our linecard. Also Cooper Cross reference was added to the site. Check the product page for detailed information |
| | Ditek Surge protections have been added to our linecard. Check the product page for detailed information |
| | NTE Cross Reference have been updated on our site. Just enter your Parts in the NTE Cross Form Search in the search bar at the top of most pages |
| | Magnecraft Relays have been added to our linecard. Check the product page for detailed information |
| | Eclipse Tools have been added to our linecard. Check the product page for detailed information |




| | |
| --- | --- |
| | Product Spotlight |
SYC-120/240-T2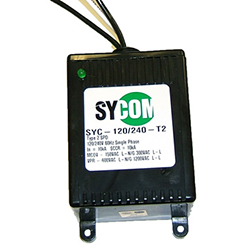 150,000 AMPS, 200-400amp Single Phase residential or Small Commercial
$0.00
MORE INFO